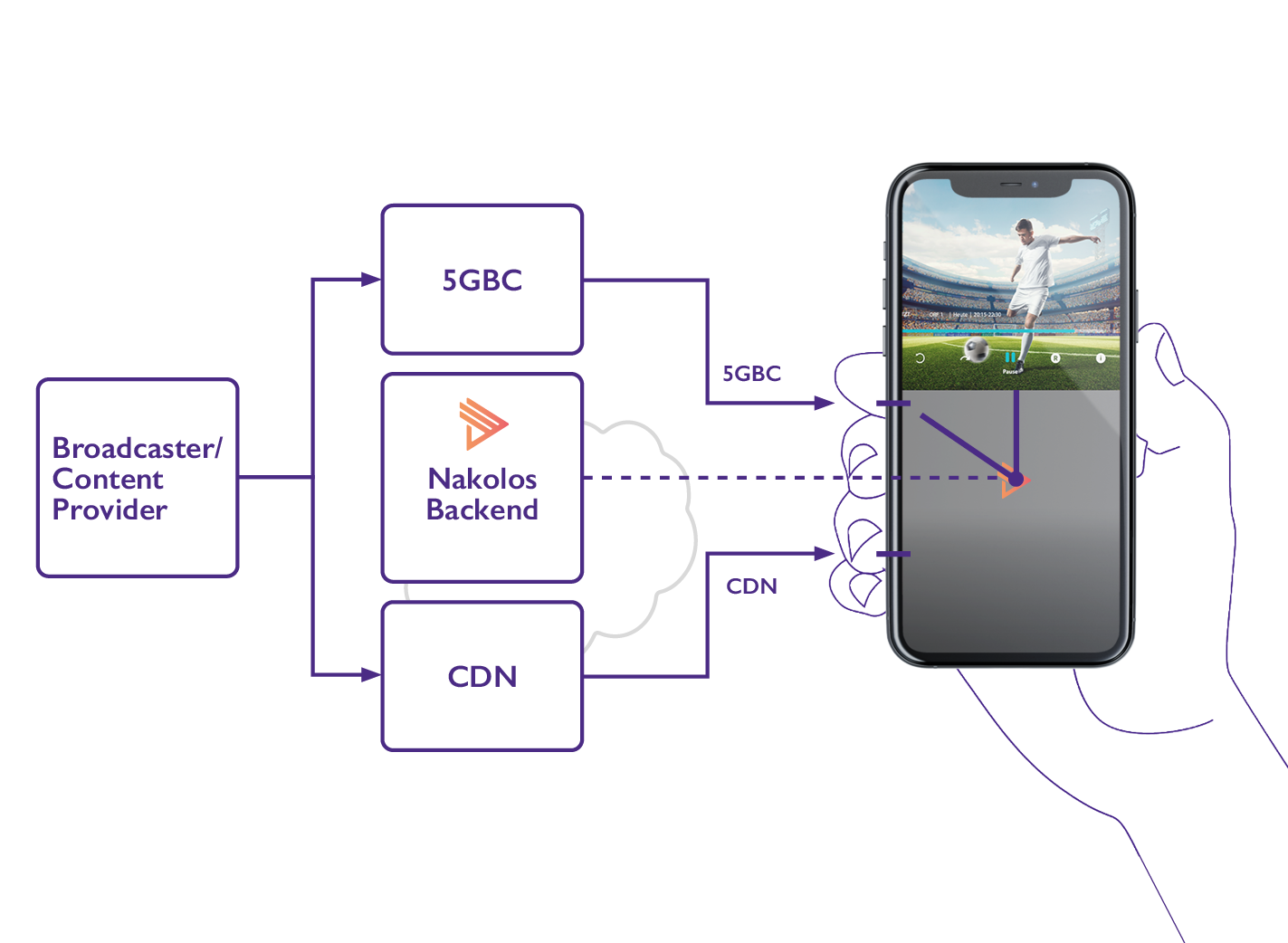 5G Broadcast meets Broadband
Nakolos develops products and solutions for content providers and broadcast network operators to utilize the combination of 5G Broadcast and Broadband on Android mobile devices.
The core technology consists of a lightweight middleware which enables Android apps to benefit from the advantages from 5G Broadcast which is seamlessly integrated with the existing broadband connection, e.g. Wifi or 5G.
A cloud-based control system monitors the current load of content in specific areas and based on the previously set thresholds automatically provisons the 5G Broadcast reception.
Roadmap
| Use Case | Description | Test environment | Productive environment |
| --- | --- | --- | --- |
| 5G Broadcast reception only | Receive only mode for 5G Broadcast on your mobile. Nakolos works with any network deploying 5G Broadcast (as defined by the 3GPP family of standards as LTE-based 5G Terrestrial Broadcast). | | |
| Seamless switching | Seamless switching between 5G BC and CDN when exiting/entering a 5G BC environment or by instruction from the controller. | | Q2/2023 |
| Broadcast on demand | Based on the available data, Nakolos can decide whether any services and which should be dynamically provisioned. | | Q2/2023 |
| Low latency for live events | Seamless switching at live events with latencies below two seconds. | | Q2/2023 |
---
| Features | Description | Test environment | Productive environment |
| --- | --- | --- | --- |
| Live dashboard | The live dashboard shows the number of phones consuming content via broadband or 5G Broadcast for each region. It also indicates the threshold when 5G Broadcast will be enabled in case Broadcast-on-Demand is used. | | Q2/2023 |
| 9/5 Mailsupport | The Nakolos team offers 9 to 5 mail support from Monday to Friday, with responses within 48 hours. | | |
| Extended support | Paying customers benefit from extended support including 24/7 NOC monitoring with dedicated SLAs for your use case. | | |
| Easy testing | Nakolos offers a standalone version for easy tests and PoC without the need of an integration into your existing OTT app | | |
| Easy integration | Nakolos consists of a lightweight, single-line integrable software solution for your mobile app and a cloud-based backend. | | |
| HLS protocol | Support of the streaming protocol HLS (HTTP Live Streaming). | | |
| Dash protocol | Support of the streaming protocol DASH (Dynamic Adaptive Streaming over HTTP). | Q2/2023 | Q2/2023 |
| CMAF protocol | Support of CMAF/fMP4 streams (Common Media Application Format with fragmented MP4 streams). | Q2/2023 | Q3/2023 |
News
---
In March the Nakolos team got the opportunity to showcase its 5G Broadcast based hybrid content distribution solutions at two subsequent meetings of the International Telecommunication Union (ITU) in Geneva. From the 6th to the 8th of March Fabian Bottesch presented Nakolos to the members of the ITU R-Study Group 6 during their meeting under the motto: Demonstration of advanced broadcasting technologies. An in-depth look at advanced broadcasting technologies The participants of the ITU R-Study Group 6 are dealing with the coordination of terrestrial broadcasting worldwide. During these meetings the standards and specifications for broadcasting are defined. Nakolos was invited…

Following the succesful launch of the Nakolos project at IBC 2022 in Amsterdam, the Nakolos team presented their further developed solutions combining 5G Broadcast and Broadband on mobile devices at the Mobile World Congress 2023 in Barcelona. Demos of "seamless switching", "broadcast-on-demand" and "low latency" via 5G Broadcast on 5G Broadcast-enabled prototype smartphones were shown to industry insiders and interested visitors who were able to try and test the innovative applications live on-site. Among the visitors was the Austrian State Secretary for digitalisation, Florian Tursky. "I am very pleased that the innovative technology 5G Broadcast is being co-developed with Austrian…
---
Contact Us
If you have questions about Nakolos contact:
We are looking forward to your message!