Nakolos at MWC 2023 – where 5G Broadcast meets Broadband
---
"5G Broadcast meets Broadband" is an initiative of ORS group and Nakolos targeting hybrid media distribution applications to enhance the 5G Broadcast ecosystem and support future commercial 5GBC deployments.
In combination with broadband, 5G Broadcast enables innovation in the UHF band to 2040 and beyond by enabling new use cases that specialize in joint distribution over both distribution channels.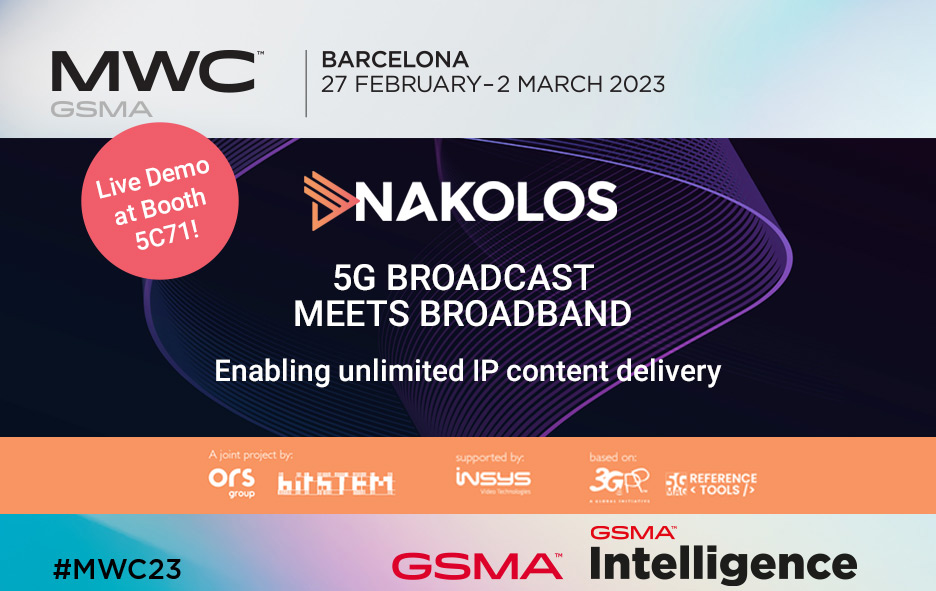 Live-Nakolos-Demo @ MWC 2023
To demonstrate the feasibility of combining 5G broadcast and broadband, ORS Group together with Bitstem GmbH has launched the joint project "Nakolos", which develops products and solutions to enable seamless switching between Internet streaming and 5G broadcast on the viewers mobile phone. This reduces the cost of broadcasting media content and is also expected to enable low-latency broadcasting.
At this years Mobile World Congress in Barcelona we will provide an open space for exchange about the growing 5G Broadcast ecosystem and bring the action of 5G Broadcast meets Broadband to our booth 5C71 with our live Nakolos demo. Come and visit us at MWC!